Tad and Chad

Tad (Left) and Chad (Right) in the episode "Hail to the Chief"

Media

The Fairly OddParents

Voice

Tara Strong (Tad) Grey DeLisle (Chad)

Hunger Type

Well Fed

Weight Class

Thin

Appearance

Blonde hair (Tad), black hair (Chad), blue eyes, lavender jackets, white shirts, black pants/shoes, sunglasses

Age

10 (each)

Favorite Food

N/A

Official WG scenes

1 (Tad) 0 (Chad)

Species

Human
Tad and Chad are recurring characters in "The Fairly Oddparents". They are two very popular boys at Dimmsdale Elementary and good friends of Trixie Tang. They consider themselves better than the other kids at the school (e.g.
Timmy
,
Chester
, and
A.J.
) due to their wealth and popularity. Despite their appearance and similar names, it's strongly believed that they are not related.
Personality
Edit
Tad and Chad are often seen hanging with other rich and popular students, notably Trixie Tang and Veronica, and encouraging others to scorn Timmy and the other unpopular students. They also tend to throw parties on their yachts along with the other popular students.
They can also afford useful gadgets such as jetpacks and motorbikes.
Weight Gain
Edit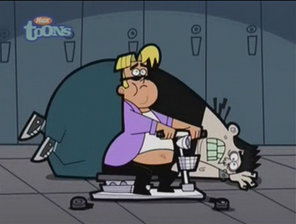 While Chad hasn't gained weight at all in the show, Tad has once (although it was brief).
In the episode "Just Desserts", Timmy wished people would eat nothing but dessert, causing everyone to become overweight. Tad had a single, non-speaking, cameo appearance in this episode. He used a motorized scooter for mobility, which eventually collapsed due to his large weight.
In the original episode script (found here http://www.scribd.com/doc/15589147/223-Just-Desserts), Tad was going to have dialogue in this segment.