Arthur Read

A stock image of Arthur

Media

Arthur

Voice

Michael Yarmush (1996-2000), Justin Bradley (2001), Mark Rendall (2001-2003), Cameron Ansell (2004-2007), Dallas Jokic (current)

Hunger Type

Sweet Tooth

Weight Class

Thin

Appearance

Light brown fur, brown glasses, yellow sweater, white shirt, light blue jeans, black belt, red and white sneakers

Age

8

Favorite Food

N/A

Official WG scenes

2

Species

Aardvark
Arthur Timothy Read is the title character of both the book series and the children's television show "Arthur" created by Marc Brown. He is an anthropomorphic aardvark, but like most other characters in the series, he appears to be more human than animal. He attends Lakewood Elementary along with his friends in Elwood City.
Personality
Arthur is shown to be typically helpful and friendly. He often tries hard to help his friends if they get into a predicament. As his last name implies, Arthur likes to spend his spare time reading books. He also likes to watch his favorite television programs, Bionic Bunny and Dark Bunny. He's also a skilled pianist, but he can forget to practice at times. He's best friends with Buster Baxter, whom he's known since they were both very young.
Arthur as also been shown to like sweets such as cake. Most notably in episodes: "D.W. Gets Lost" and "Just Desserts".
Weight Gain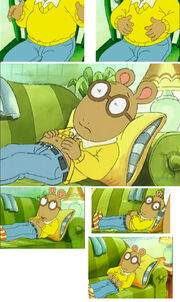 Arthur has only noticeably gained weight twice in the series canon, both are in the episode "Just Desserts".
He became bloated after eating: a bag of assorted sweets, a big dinner, and two slices of wedding cake.
Later during a dream sequence, he was force-fed an enormous cake and became dramatically stuffed.
Gallery